beginning Monday, March 1
MARCH ISSUE 2010
THE FREEZINE IS BACK THIS MONTH
featuring
stories by
Vincent Daemon
Daniel José Older
Adam Bolivar
John Shirley
and introducing
flash fiction from
El Queso
Our Serialized Feature
WAITING FOR THE END
by Vincent Daemon
*FOR MATURE READERS ONLY*
*MUST BE 18 OR OLDER TO ENTER*
A grim, cautionary tale of apocalyptic horror.
You think things get bad in the future?
You don't know the half of it.
Join Ward, Lexi, Chas, and their crew of misfits
as they steel themselves against a nightmare of
ecological collapse in a ruined city overrun by
incinerator tanks, genetically modified carnivorous
plants, and the ravages of martial law and ecological collapse.
When you've run out of shelter,
food, water, drugs, and hope:
all that is left is...


WAITING FOR THE END.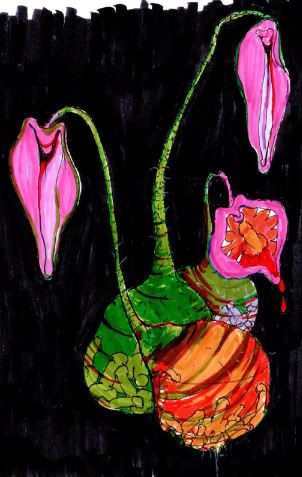 artwork by Shasta Fletcher